Image: Missing Jesus
Love Language Building Relationships Radio
Love Language ~ Building Relationships Radio ~ Saturday, August 16, 2014 ~ Featured Resource ~ Best of: Missing Jesus: Find Your Life in His Great Story ~ Guest: Charles Morris and Janet Morris ~ Original Air Date: Saturday, March 08, 2014 ~ Building Relationships ~ Hosts Gary Chapman, Chris Fabry and Andrea Fabry. ~ Image: Missing Jesus






Building Relationships Radio
Original Air Date: Saturday, March 08, 2014
Saturday, August 16, 2014
Best of: Missing Jesus
Find Your Life in His Great Story
Featured
Charles Morris and Janet Morris
We put our trust in Christ alone for the forgiveness of our sins, desire to please God with our life, and yet, we often find that something crucial is missing. Our day-to-day experience of faith lacks the vitality we know it should have. We feel like we're missing something and we probably are. We're probably missing Jesus.
That's what this book is about-it's about not missing Jesus. It's about seeing him big. It's about having our lives re-centered on the glorious Son of God all over again. Charles and Janet Morris wanted to know what happens when we stop missing Jesus, and now they're sharing what they've learned.
Author
About Charles and Janet Morris
CHARLES and JANET MORRIS At the turn of the new millennium Charles and Janet Morris packed up and moved to California, leaving behind the dream home they built at the base of Pikes Peak in the Colorado Rockies. They had been asking the Lord to use their communication skills in a front line way for the kingdom when the phone rang and Charles was called to become the fourth speaker on an 80-year-old Christian radio program based in Los Angeles. Charles had journalistic experience on radio, TV, and with UPI, but no file drawer full of sermons. So with a background in Bible teaching and leading women's retreats, Janet joined her husband in helping write the daily messages. HAVEN Today airs on 600 stations with 500,000 listeners. Together Charles and Janet have co-authored two other books, Jesus in the Midst of Success and Saving a Life. Their prayer is that Living a Life that's All About Jesus will convey the same life-changing message Charles shares on the radio and that daily changes their own lives ... "it's all about Jesus". Charles and Janet have three children and three grandchildren.
All About Jesus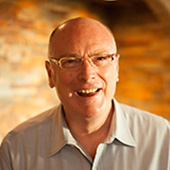 PROGRAM ARCHIVES
The Odes Discovery ... the Earliest Christian Hymns Part 1
Would you like to know how the first Christians worshipped? What did they sing? For the first time in 2000 years, a collection of the first Christian hymns has been set to music. Come and worship!
Listen

The Odes Discovery ... the Earliest Christian Hymns  Part 2
Dating back to the 1st century, the Odes are songs of worship for the church. They go back so far that the Apostle John likely sang them! Listen and hear what they may have sounded like.
Listen

The Odes Discovery ... the Earliest Christian Hymns  Part 3
Christians have sung praises to God since the very beginning of the church. Have you ever wondered what they sang 2000 years ago? On this program Charles answers those questions and more!
Listen

The Odes and the Early Church  Part 4
Since the beginning of the church, Christians have gathered together to sing and to learn from God's word. But we have never known much about their songs until now.
Listen

The Odes and Living Water  Part 5
Nothing satisfies thirst like water. But for spiritual thirst, nothing will ever satisfy except for Jesus. Join us to celebrate, with the music of the early church, that Jesus is "Living Water".
Listen
''Corum Hughes/CONTRIBUTED IMAGE
Charles Morris in Haven Today"s Riverside studio. The radio ministry raised more than $300,000 for victims of the deadly typhoon in the Philippines.''
Episode 61: The Changing Sound of Faith
Melinda Schmidt talks about how Charles Morris has taken a nearly 80-year old Christian radio program and made it faith-relevant for today.
In This Episode
: Charles Morris
Host
: Melinda Schmidt
Charles Morris
Charles Morris is the speaker and president for Haven Ministries. Beginning his career as a broadcast news reporter, he then worked as an editor and bureau chief for United Press International. Charles and his wife, Janet, have co-authored several books including
Saving a Life and the forthcoming Missing Jesus: Find your life in His great story.



Melinda Schmidt
Melinda is a visionary who appreciates observing how the complexities of culture and faith influence one another. Her core words are freedom, orderliness, twirling, beauty and seed-planting ideas. For her, life is good when she is free to muse, express and—frankly—eat pizza or her homemade blueberry pie.
Building Relationships
Hosts
Gary Chapman, Chris Fabry and Andrea Fabry
Building Relationships Radio
Saturday, August 16, 2014
Best of: Missing Jesus
You go to church. You read the Bible. You believe in God and Jesus and the Holy Spirit. But you feel like something is missing. On this Building Relationships with Dr. Gary Chapman, Charles Morris from Haven Today, and his wife Janet join us to talk about what happens when you don't experience vitality. When you feel like you're missing Jesus. Don't miss the discussion today on Building Relationships with Dr. Gary Chapman.
Featured: Charles Morris, Janet Morris
Hosts: Gary Chapman and Chris & Andrea Fabry
Tune in to Building Relationships with Dr. Gary Chapman, the weekly radio broadcast brought to you by Moody Radio and Moody Publishers. Listen live online Saturday mornings at 10 a.m. and evenings at 7:00 p.m. CST at moodyradio.org, check your local radio station, or download free podcasts and get more information.

Image: Charles Morris and Janet Morris
Missed a program?
Click here to visit the audio archive
Discover Your Love Language ~ Building Relationships
Start Marriage Right ~ The 5 Love Languages
Prologue is a revolutionary new approach to marriage prep in a real world. It's free, accessible from any computer, tablet, or mobile device, and usable regardless of physical distance. Whether engaged or newlywed, this dynamic resource teaches couples the essential foundations of communication, conflict management, money, and more.
For more information, visit:
startmarriagehere.com